Updating status of a lead
Open a lead and then click on the Status tab:

Fields:

Select Status (New or Warm or Cold or Hot or Super Hot or Junk)

Select "Assigned To" (assign a counsellor or manager to handle the lead - you can also self-assign the lead)

Select a Followup Date (make sure to select a Followup Date and Time)

Enter Remarks

Enter status fields every time when you reach out to student (even if the student is not responding)
Bulk Update:
Apply the filters on the leads page and the select the leads you wish to update the status by clicking checkbox. Click on the Assign Status button to update status.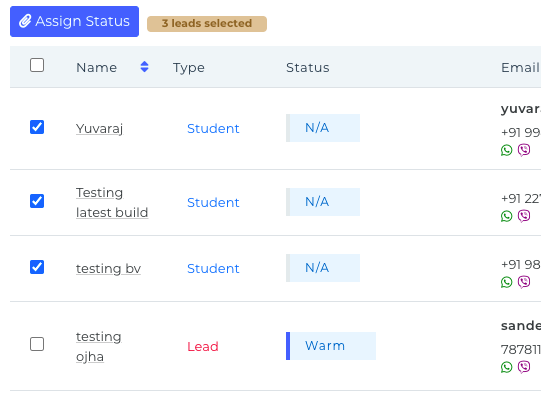 Related Articles

Add/Edit a lead

In KApply, you can create leads by: Entering data in the add lead details form Importing leads from Excel Sheet Capturing leads from website Capturing leads directly from Facebook or Instagram paid ads Click on the "Add Lead" button to add a lead ...

Daily Status Report

Donec at metus aliquam, vehicula ante vitae, finibus massa. Phasellus ligula neque, pulvinar eget turpis a, porta hendrerit risus. Interdum et malesuada fames ac ante ipsum primis in faucibus. Duis hendrerit elit at quam condimentum venenatis. ...

Export Leads

You can export your lead database in excel format. Before exporting leads, apply the necessary filters and then click on the Filter Button: After applying filters, click on the Menu icon (before Add Lead button) and then select Export Leads: The ...

Import Leads

Data collected through various sources such as webinars, seminars, third-party purchase, campaigns and so on can be imported to K Apply. Click on the Menu Icon (Before the Add Lead button) and then select Import Leads: Download the Sample CSV file ...